Plant defeats Jefferson
On August 27th at 7:30 pm, the Plant Panthers Football Team defeated the Jefferson Dragons 22-2 in their first preseason home game.
After Jefferson turned the ball over, the Panthers took advantage of their opportunity and got off to an early lead of 7-0 by scoring with a QB-sneak from Senior Jack Lennon just before the end of the first quarter.
"I went into the game knowing that if we played our game, the scoreboard would take care of itself, and it did. I wasn't nervous but a little anxious to get out there and play, Lennon said."
On the opposite side of the ball, Plant's defense was disrupting Jefferson's offense with six caused turnovers. Jefferson only achieved two points by the end of the game with a safety. The plant responded to this disturbance by getting a safety of their own to keep a seven-point lead.
"I think our defense excelled. Jefferson was able to get into the red zone multiple times, and all times the defense shut them out," Senior JP Florentino-Mattos (K/P) said.
The Panther's defense stayed persistent as the crowd, containing the Gold Rush (student section), continued to cheer. The Gold Rush was displayed in a black-out, and they made enough noise to keep their Panthers fighting.
"The gold rush student section was amazing. The energy, the students, the band, everything made the game incredible," Florentino-Mattos said. "We walked out after warmups in awe; it felt like a college football crowd, and it's just a great feeling to be part of such a great school, with a supporting student body."
The Panther's offense continued putting points on the scoreboard as their defense proceeded to cause turnovers on the other side. With the ball in the Panther's hands, Junior Jaquez Kindel snatched a touchdown pass from Lennon to enhance the Panther's lead. With the Gold Rush cheering from the stands, Plant's offense got into the endzone once more as Junior AJ Durham received a pass from Lennon while running a slant through the middle of the field and behind the defense, giving Plant a total of 22 points.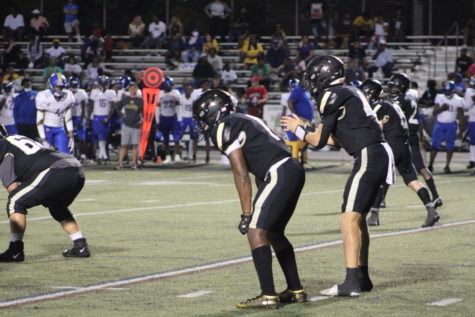 "We really excelled on the defensive side of the ball, getting six turnovers which gave the offense multiple opportunities to put points on the board," Lennon said. "Our team dynamic is very close. We all believe and trust in each other, and I do feel like that affected us in a good way."
This Friday, the Plant Panthers will compete in an away game against the Robinson Knights and hope for another victorious performance. The Gold Rush will follow and will continue to applause their Panthers as they fight for another win.
"We need to keep our heads down, grind, do our jobs, and perform," Florentino-Mattos said. "Nothing is given to us, and they will bring their all. Being the longest rivalry plant has, there is a lot of expectations surrounding the game. We need to come together, execute on offense and shut them out on defense as we did against Jefferson."