Brooks runs his way into the record books, leads Plant to victory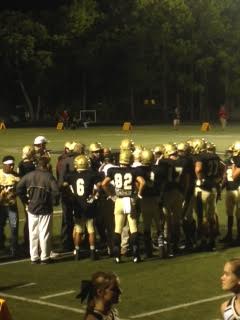 Many people gathered at Dad's stadium tonight, including Florida Gator's Head Coach Will Muschamp, to watch Plant's game versus Tampa Bay Tech. Senior Running Back, Patrick Brooks was unstoppable and ran for five touchdowns on the night, four of which came in the first half. Brooks also had 285 total yards and helped lead the Panthers to a 44-7 victory.
Brooks' five touchdowns tonight ties a record that was previously held by current Cincinnati Bengals Running Back, James Wilder Jr.
The defense played well and held the Titans to only seven points. Brendan Butler led the pass rush with two sacks and Pat Cooper got a touchdown saving interception. Tonight wasn't the best night for junior quarterback Rex Culpepper, who threw and interception and fumbled a snap. But on the upside Culpepper did throw a couple of deep passes including, one to senior Wide Receiver, Luke McFadden on the sideline.
Next week, Plant plays Riverview on Thursday for their Homecoming game. Riverview is 1-3 this season and Plant should be the favorite to win.