Storm effects on Haywood County, NC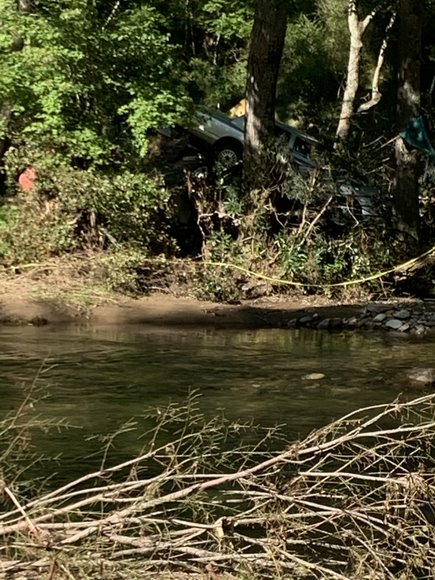 Growing up, I was lucky enough to have a vacation home in the Smokey Mountains of North Carolina, specifically Waynesville. Right outside of Waynesville is an area called Cruso, which is where our first house was located. Waynesville is a quaint little town with high mountains and a charming central street with the sweetest family-owned shops. There is no hustle and bustle and no fear for security and safety. Haywood county is the type of place that families can live with their doors unlocked, even in this time of society. It is a place I have held dear to my heart and have had since I was about two years old.    
Cruso is not commonly known, but it has lots of history. The sign that is seen when entering Cruso says, "Cruso 9 miles of friendly people plus one old crab," and the crab was said to be a grumpy old man from long ago. It also leads to the highest mountain in the area, Cold Mountain. There is a body of water called the South Fork Pigeon River that surrounds most of the community. 
On Aug. 17, it had been raining several days from tropical storm Fred, and the river rose to 20 feet. A large wall of water rushed down and wiped out everything in its path. Six people were taken along the river and drowned tragically. 
One of our dear friends, Pam Carter, has lived in Cruso for 21 years, but her home is at a much higher elevation. She has worked tirelessly to help those who have suffered through this tragedy while witnessing the apparent sadness and having feelings of guilt because her home was not affected.    
 "The devastation was nothing like anyone could have imagined; 15 miles plus of friendly people became a place in only nightmares. There were 500 people displaced from their homes and 30 bridges completely destroyed. Major mudslides came rushing down the mountains and filling homes with mud and sewer. Our neighbors are tired, sick and overwhelmed. We are family and friends, and it hurts your heart to see the pain that they feel each day. The reminder is still very real, they live it every day, no one can ever be prepared for such a catastrophe" Pam said. 
I was able to see the aftermath weeks later during a personal visit. Understanding the true tragedy of an unforeseen act of nature is astonishing. Seeing the catastrophic images of people's houses torn apart and their cars in ditches. Individuals that aren't responsible for these natural disasters are coming together for the benefit of their community. This type of teamwork and the family dynamic between neighbors continues to be inspiring to outsiders like me. Hopefully, this continuity will last, and with hard work, these towns can be restored and brought back to their original state.     
For resources on how people can help, click the link below: