CAMP Tampa: a fitness studio in South Tampa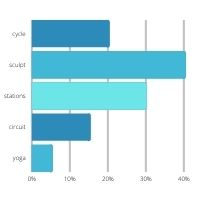 CAMP is a Tampa-based fitness studio that offers multiple types of workout classes. The CAMP studio offers cycle classes, yoga, circuit, sculpt, and stations. They have recently built and opened a studio in Las Angelos, California.   
A student at Plant, Gwyneth Liebowitz, works at CAMP in her free time and is also a member of the workout classes. "I love working at CAMP because it's such a good environment and everyone is so motivated and hardworking, I wouldn't want to work anywhere else." Liebowitz said.   
Jolie Denman, a sophomore at Plant, has been working out at CAMP for over a year. "I love attending CAMP classes especially cycle with John, the energy in there is so amazing and positive," Denman said. The instructors and the other campers motivate each other to do their best and get better every time. "My friends and I always plan our schedules to go to classes together because it is very motivating to go with your friends," Denman said.  
The CAMP fitness studio has recently been voted Best Fitness Studio for the Best of the Bay Tampa's pick. Matt Bode, a trainer at CAMP, also won Best Personal Trainer. People in the Tampa Bay area took a survey, and CAMP was the majority vote for the best fitness studio in Tampa Bay.   
Lilly Young's, a sophomore at Plant, favorite class at CAMP is sculpt with Anna. "I began CAMP around a year ago just starting to test it out because I heard so many people talking about it, but know I go every week and love it," said Young. Camp has a variety of different classes, so there is always something new to try. "