A minute to win it
On Friday, Oct. 29, 2021, PHS Varsity Football defeated Durant 24 — 27 in their last home game of the season. 
"Our attitude that week was no matter what, we were leaving Friday night with the dub, and we were going to do whatever it took to get us the win," Junior wide receiver Jaquez "Quay" Kindell said. "We knew this team was going to be well prepared, and we had to outplay them on all three units."
Although they were down for the majority of the game, the Panthers were able to sneak out a comeback in the last minute to take the lead.
"The team was always motivated, even when we were down because we were confident in each other to win," Junior linebacker John Palios said. "The environment helps all the time, making it loud for the other team and hyping all of us up."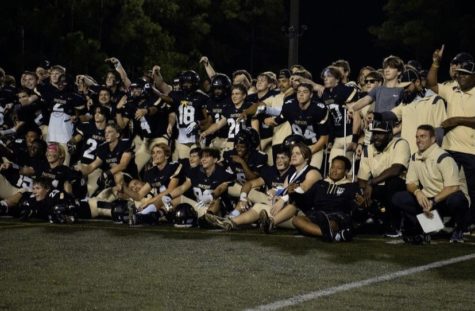 With the support from the crowd and the team's determination, the Plant Panthers had many defensive stops, one of which occurred in the last minute when they were losing 17-21. This gave the Panthers their final opportunity to take the lead and win the game.
"Our mentality was just to not give up. We knew this team was well prepared and was going to give us a fight," Kindell said. "We knew there was a lot of football to be played, and we were going to finish strong."
Kindell finished the game with six catches for 83 yards, returned a kickoff 91 yards for a touchdown, and secured the last-minute touchdown catch, which gave his team the victory over Durant.
"Going through that last drive, everyone was locked in," Kindell said. "For me, it felt like a Wednesday night practice 2-minute drill offense vs. defense. Lining up for the touchdown play looking at the guy across from me, I knew I had to be the better player in this one-on-one situation. The ball came, and in my mind, I knew that I was coming down with it. There was no doubt in my mind that I would drop the pass to win the game."
The next Plant game is on Nov. 5 against Berkley. Buy tickets below: