Plant Introduces Traffic Safety Features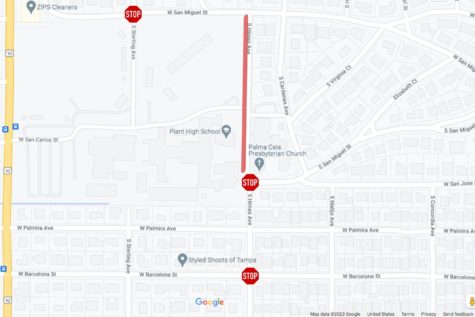 Three new all-way stops and a designated carline lane were created on the Himes side of Plant High School last week. Plant introduced these traffic features to improve road safety around the school.  
"A 2018 Safe Routes to School Study listed Plant among the top ten most dangerous schools in the county for pick up/drop off (determination made based on number of reported crashes, citations written, and a Road Safety Audit)," Principal Kimi Hellenberg wrote in a Canvas message.  
The stop signs were added at the intersections of Sterling and San Miguel, San Jose and Himes, and Barcelona and Himes. The signs were created for student pedestrians to be able to cross the street safely as they walk to and from school.  
The new carline lane extends from San Miguel to the school entrance on Himes. The carline lane should be used for pick up and drop off, as the middle lane is for moving traffic only.  
"Road design changes take some getting used to," Principal Hellenberg said. "Please drive cautiously and considerately at all times, but especially during this transition period. All Plant students deserve a safe route to school: Do your part to protect them on the road!"  
Junior Sofia Carballo is supportive of the new stop signs. She drives to school every day and has taken appreciation for the new safety measures.  
"I think the stop signs are necessary to ensure the safety of students, especially with the accidents that have occurred," Carballo said. "I do feel safer as a student driver with the additional stop signs."