Jan. 6, 2021 From Behind Bars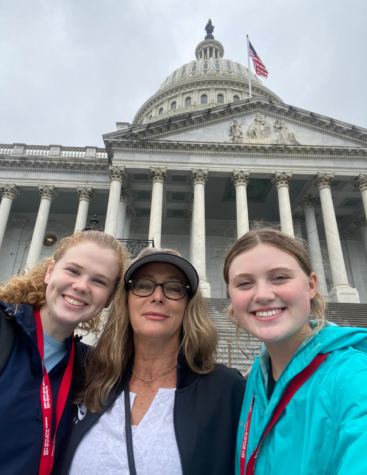 "At the end of the day, I'm a patriot, I am an American, I'm not democrat, I'm not republican."  
It was a dreary day outside of the U.S. Capitol Building as a woman named Michele Scott posed with a group of people familiar to her on the steps, the capitol building in the back. Just a block and across the street, reporters lined the Cannon House Office Building where the Select Committee to investigate the January 6 (2021) attack in the United States Capitol was taking place. However, Scott was here for another purpose.  
Scott was in Washington with a group from the LWOP Project. The LWOP project, or Life Without the Possibility of Parole Project, is part of a current initiative led by the Human Rights Watch and also in part by the USC Gould School of Law Post-Conviction Justice Project to build campaigns to end the imposition of life without the possibility of parole. The group traveled to Washington to speak with undisclosed members of the senate and other policymakers about the devastating effects of the sentence and argue for its disbandment. Scott understands this issue better than most.  
"I was actually incarcerated serving a double life without the possibility of parole sentence in the world's largest women's institution located in Chowchilla," Scott said.  
The impending movement of the trial and the tension building from the imposing decision of the U.S. Supreme Court on the sustainment of Roe V. Wade carried the question of how her unique perspective shaped the way that she viewed the current politics.  
"Watching the insurrection I saw an America that I thought I would never see again, that I had only viewed on foreign TV like Al Jazeera," Scott said, reflecting on the time that she sat with other women in her unit watching the events of January 6 unfold on their shared television. 
"I saw that these were Americans that were so confused and so riled up that they were storming the capitol something that I supposed to signify, you know, thoughtful discourse, intelligent debate, and ultimately two parties that represent Americans. Not like, what to me is two gangs, that are rival gangs," Scott said. 
Scott represents a small majority of Americans stripped of their rights and placed in institutions but her disappointment in the politics that led to the actions of January 6 is shared by a considerable population of Americans; 37% describe their reaction in a strong negative emotion and 14% expressing surprise or concern for the country (following a figure by Pew Research Center from an open-ended survey conducted Jan. 8-11, 2021).  
"In thirty years of incarceration, I have had a lot of time to observe the changing of the world that I was seeing through the TV and the January 6 insurrection made me scared for this country and also made me somewhat fearful stepping out of prison into what this society and world looks like," Scott said.