Annabelle terrifies audiences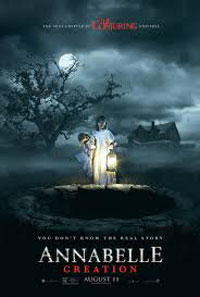 Hang on for a minute...we're trying to find some more stories you might like.
Fans of horror movies will remember the haunted doll Annabelle, who first appeared in the 2013 film "The Conjuring." While Annabelle had a minor role in the movie and its sequel, she took the main stage herself in 2014's "Annabelle."
Unfortunately, the evil doll was not suited to a lead role in her own film. The film fell short of the standard set by previous entries in the universe of "The Conjuring."
However, "Creation," a prequel to the 2014 film, surpasses Annabelle's other film in almost every way.
While the plot has many tropes and clichés that will be obvious to seasoned veterans of the genre, the skillful directing of David F. Sandberg redeems the film.
Sandberg takes a mediocre script that brings nothing new to the table and turns it into something thrilling and scary enough to rival the other "Conjuring" films.
Some may remember Sandberg from 2016's "Lights Out," an unexpected success.
"Creation" follows a group of orphans and their caretaker who move into the home of a dollmaker and his wife. Obviously, the orphans do not find their perfect life but are hounded by the demonic presence in the house that grows throughout the film.
The acting will not blow anyone away, but it is perfectly adequate for the film. The plot, as mentioned earlier, will seem familiar to those with a general knowledge of horror tropes.
The directing is what makes this film rise above the rest. The same knowledge of how to unsettle an audience that propelled "Lights Out" to success makes "Creation" a truly scary movie that even diehard horror fans will enjoy.
This film won't revolutionize horror movies or go down in history as a classic. However, the movie does manage to make itself memorable and will leave audience members with a feeling of unease that will stick with them long after the movie has ended.
Whether a long-time fan of horror movies or a newcomer, "Creation" is sure to be equally effective and frightening for both audiences. Anyone looking for a scare doesn't need to look any further than "Annabelle: Creation".