Swift impresses at Tampa show
Looking to clarify her reputation, Swift shows fans her true self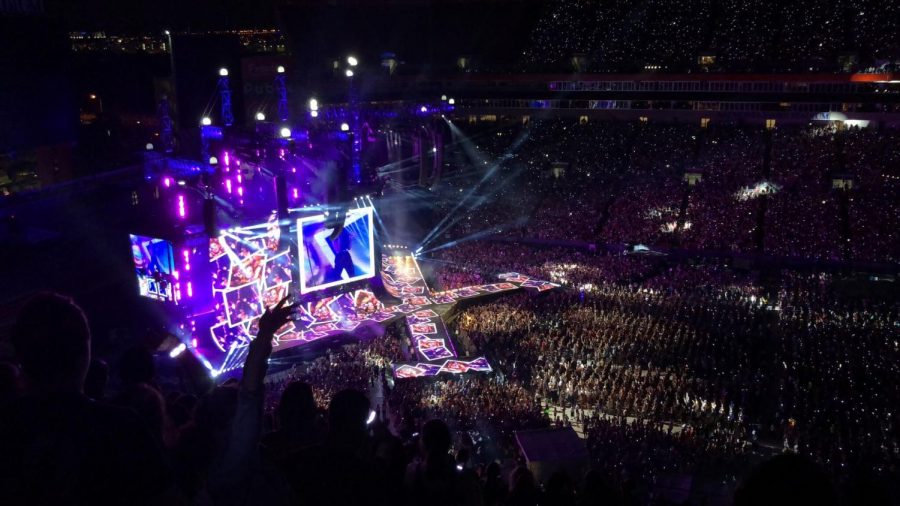 Raymond James Stadium on a muggy Tuesday night does not sound like the ideal situation for a concert, but the stadium was still full of more than 50,000 fans dressed in costumes and draped in lights, waiting for Taylor Swift to take the stage for the third leg of her Reputation Stadium Tour Aug. 14. 
As concert-goers walked through the gate, they were presented with a light-up bracelet, which is the signature of her Reputation tour. During the concert the bracelets were programmed to light up at specific times, with specific colors. This effect created a spectacular light show that also allowed Swift to see all her fans, which was what she said was her favorite part of the bracelets. 
Swift chose songs not only from her "Reputation" album, but also from her older albums. The reason for mixing in old songs was to revisit her "past selves" as she described them. She acknowledged that her fans had stuck by her through all the phases of her life and helped her become the strong person she is today.  
After every few sets Swift would take time to engage with the fans, even entering the crowd a couple of times. The mood shifted at one point in the show when she was sitting on the stage alone at her piano, openly touching on her sexual assault case. She wanted to make sure everyone knew that speaking up is necessary, even if people choose not to believe you.  
The goal of her tour was to show her true self, something the singer said she was accomplishing since she has had the most fun on this tour than any of her previous ones. Her positive energy was well represented in the crowd, as it was very loud, and fans could be seen dancing during the entire show. The combination of lighting effects and songs made for an entertaining show, and when mixed with her willingness to be open with her fans, the show felt very personal.