Varsity football ties defending state champions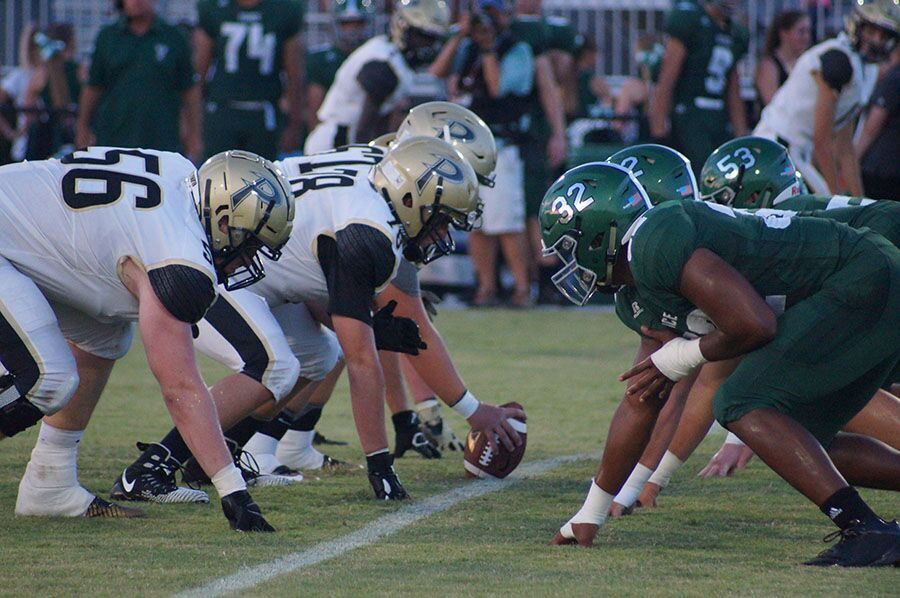 The varsity football team tied with the defending state champions, Venice High School, with a final score of 25-25 during the preseason.  
"I was really confident going into the game on Friday because it's off season, we've been working so hard, our team is different, and we've come together more as a team and bonded more as brothers," senior Leonard Parker said.  
After being down 3-0, senior Evan Passath tied up the game with a field goal.  
"I basically knew from the moment the game started it was going to be a tough game, and we were not going to win if we didn't give it our all," Passath said. "When Coach called for me the score was 3-0, Venice leading, and I knew it was very important to put points on the board. It would give our team life and energy to keep pushing no matter what. I was excited and confident."  
The team recovered two fumbles following Parker's recovery in the first quarter, along with an interception that left them down by only one point, 17-18, at the end of the third quarter.  
"I felt like we did what we needed to do to bring up our intensity," junior Aidan Giansante said. "We had to come through and make sure we got those points back. We all had good energy and were surrounded with good vibes."  
With this mindset, the boys began the fourth quarter with starting quarterback junior Tucker Gleason throwing a pass to Parker, resulting in a touchdown that almost had the game tied. Senior Jude May took over after Gleason cramped, setting up a two-point conversion to sophomore Hayden Reid, officially tying the game.  
"It was unlike any other preseason game as it had a playoff feeling to it," coach Greg Meyer said.  
Instead of taking the game into overtime, Venice athletic director Pete Dombroski told the referees to call off the game because of the weather.  
"I feel confident in our boys and what we can do," sophomore Balwin Barnes said. "I think if we had gone into overtime we would have won."  
In the last 40 seconds of the game, junior Elijah Cook scored an interception which would have given Plant possession of the ball at the beginning of overtime. Instead the players were given a congratulatory talk by coach Robert Weiner once they returned home.  
"It was a tremendous experience for us as we were able to compete at a state championship level so early and not only find we were able to stand toe-to-toe with anyone but have that experience for future games which is hard to come by," Weiner said. "I'm so proud of our team's toughness and perseverance through adversity."