Students form long-lasting friendships with kids with disabilities
Walking into room 503, there is a warm, inviting feeling and students are met with smiles and friendly faces of kids like juniors Arushi Pratap and Jade Connor and seniors Dara Mizell and Bryan Lopez. 
Photos pinned up on the walls tell stories from many of the dances and events held by Best Buddies. They picture kids dancing, eating food and laughing and smiling at events like the Best Buddy Ball and the Friendship Walk.    
"The idea behind Best Buddies is to make all of these kids with disabilities feel included," club sponsor Caroline Medina said. "It's almost as if the students become a big brother or sister to these kids, but they really become friends. I've seen it really take off where the kids are still friends to this day – it's beautiful."   
Best Buddies, a non-profit organization, pairs kids with intellectual and developmental disabilities (IDD) with fellow students to form meaningful friendships by sharing interests and experiences throughout the year.    
Many students remain friends with their buddy and participate in Best Buddies long after they leave.   
"Even after I left Plant, I've still been involved in Best Buddies in any way I can," Plant alumnus of two years Riley Bryan said. "This program does so many great things for these kids, and I love being a part of it."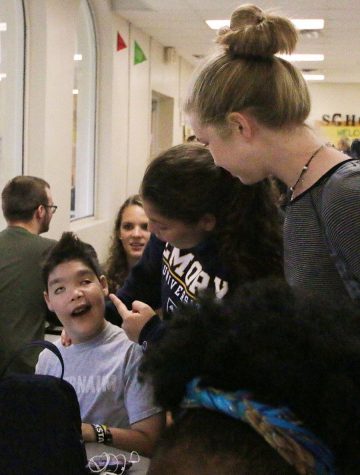 Best Buddies was started in 1989 by Anthony Shriver, whose uncle was John F. Kennedy. He was inspired to start the program by his aunt, Rosemary Kennedy.    
"I have a friend who is the vice president of Best Buddies that works down in Miami," Medina said. "We went to college together, and so when I got into education, I started working with kids with disabilities. I realized there were really no clubs here at Plant for kids with disabilities."   
Medina has managed the Best Buddies club for eleven years since she first brought the program on campus in 2007.   
"I started it because I wanted these kids to have something to look forward to," Medina said. "I wanted more inclusion. I wanted people to get to know these kids, to know that they're funny, they like to go out, they like to shop or they like to see movies, just like you guys do."   
There are 120 students in the club and 30 special needs kids. When students apply for the club, they sign up to be a "peer buddy." Usually, there are three to four students per buddy. They sit with them at lunch, and they can come in during class to say hi to them.   
"I'm so glad I joined Best Buddies," freshman Zoe Zacharias said. "So far it's been a really great experience. I love doing all of the fun activities and meeting new people – I always go in to say hi for a few minutes between my classes."   
The level of disability amongst participants ranges from kids that may have limited speech to those like junior Arushi Pratap, who makes her own clothes.    
"I love seeing all of the kids in Best Buddies like Arushi," said sophomore Elyse Howard. "She always says hi to me, and she's so funny."   
Throughout the year, Best Buddies hosts a variety of events to raise funds and spread awareness every month. The first event is a Halloween party in late October held at Kate Jackson Park, where the buddy pairs get matched and introduced to each other.    
"The kids all dress up, and it's really fun," said club president junior Lily Bonbrest. "It gives the buddies and the students an opportunity to meet and get to know each other."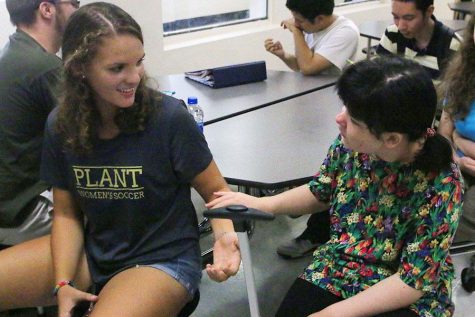 Then in November, Best Buddies hosts a Thanksgiving picnic. Everyone in the club goes to a park and brings something to eat, like turkey, mashed potatoes and other traditional Thanksgiving foods. There is also a Thanksgiving potluck after school, where all the members bring a dish to share.   
"We all have a picnic and play games, and just hang out and be thankful for each other," said Medina. "It's like a big Thanksgiving feast."   
In December, the club holds a cookie and gingerbread decorating party. This year, it will be hosted by Bonbrest.    
"We celebrate the holidays with fun foods and treats and games," said Bonbrest. "It's fun to organize the event and even more fun to watch it all come together."   
From January to May, there are many other events, including a Friendship Ball and a Friendship Walk.   
"By that time, most people have already begun to form friendships on their own," said Medina. "They exchange their phone numbers with each other and form their own friendships, and it just takes off from there. They'll go shopping, to the movies or just hang out."    
Most of the kids in Best Buddies participate in Special Olympics. Special Olympics is another way to get both kids with and without disabilities involved and is the largest sports organization for people with disabilities.    
"One of my favorite events all year is Special Olympics," senior Troy Burkhart said. "This is my fourth year in Best Buddies, and it has been such a great experience."   
To those involved, Best Buddies is not just a club. Students become real friends with their buddies and get to know each of their unique personalities.  
"Their happiness just makes my day," Medina said.  "Arushi's contagious laugh, or Bryan saying the weirdest craziest things or Nathan running around calling me a millionaire, is what makes this job so worth it. If it weren't for them, I probably wouldn't be teaching."