Team traditions show unity
Moments before the swim team lines up in their lanes, they all gather in two circles with arms interlocked. Feet away from the pool and clad in their school-issued swimsuits, there's only one thing left for them to do before they race. Seniors gather in a small inner-circle while the rest of the swimmers surround them and two seniors jumping into the middle to rally their team together before they jump in the water.  
"It's exciting to know that you are leading the team before the swim meet," senior Max Smith said. "It gets everyone excited and really brings us together."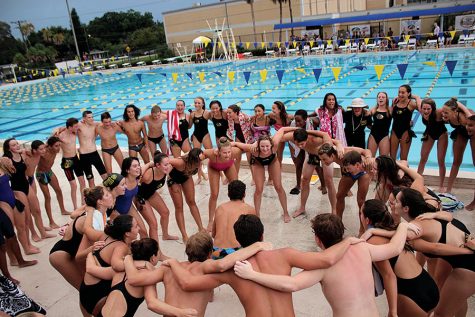 Following the pump-up speech, the swimmers begin to sway from side to side in opposite directions. They chant "PHS, PHS, PHS" over and over again, their volume mounting in intensity as time goes on. This is one of the many traditions that unify varsity sports teams across campus. 
"We feel close to each other, and we just get all excited for the meet," junior Sophia Laratta said. 
On the field, one thing that connects the football team is their links. Each player on the varsity football team carries around a chain link with them everywhere they go. To earn it, each player is required to learn the mission statement and recite it in front of the whole team.  
"Once I said it, I felt like a Plant Panther," junior Junah Norwood said.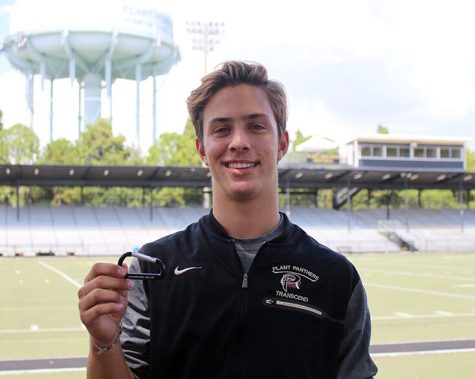 Taking the idea of unity further, the coaches select a player each week who best exemplifies the mission of the team and present him with the Link and Chain Award. Before the game, the chosen player is then entrusted to collect all the links and put them together, forming a chain, which is then given to one player to carry as they run out onto the field.  
"It's a tangible sign of how we are united and tied to one another," head coach Robert Weiner said. "When something great happens to someone, we share in that celebration, and when something bad happens … we're there to support them because we are linked to their difficult challenges as well, as it's the ultimate sign of our unity." 
The girls' varsity volleyball team has their own version of a tradition that also seeks to demonstrate solidarity amongst the team.  
"Everyone brings their own decorated chopstick to every practice and game," sophomore Georgia Lowe said.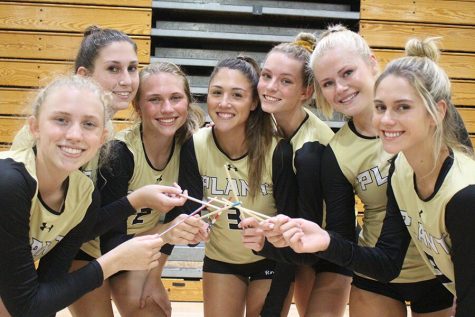 At the beginning of the girls' volleyball season, their coach, Vanja Todorovic, held up one chopstick and asked the girls to break it.  When they all broke the one chopstick, he held up 14, one for every girl on the team, and told them to try again.  
None of the girls were able to break the chopsticks when they were all together.  
"It was to show the strength between us, being together and united as a team, and how hard it is to break us down when were all together," junior Birdie Frierson said.