Teams spend summer travelling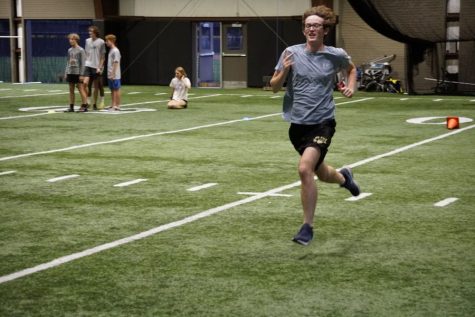 Over the summer, many teams traveled to various camps to train and bond. Football, cheer and cross country all went to different states and universities to prepare for their upcoming fall seasons. 
"I enjoyed travelling out of state for camp because it gave us an opportunity to train in the beautiful weather and hills that North Carolina has to offer," senior Olivia Manno said. "It's something new for us." 
The girls cross country team took their annual trip to the Adidas All-American Cross Country camp at the Christ School in Asheville, North Carolina. 
"I got really important hill training at camp from the North Carolina mountains that I couldn't have gotten anywhere in Florida," sophomore Arlie Rubin said. "My favorite run was probably the DuPont trail because we went to Sliding Rock." 
Flying north to Boone, North Carolina, the boys cross country team also trained on hills for a week at Appalachian State Running Camp. 
"My favorite part was running the trails," junior Nathan Dye said. 
Varsity football journeyed to several 7–on–7 camps across the state, including Ave Maria University in the Everglades and the Miami Dolphins facility. 
"We always have a couple goals with our travel time in the summer," coach Robert Weiner said. "We want to get better fundamentally, we want to grow as a team in our chemistry and our cohesion together, and then we want to compete for championships knowing what the competition feels like. You can't simulate real football over the summer, but you can simulate the pressure that it takes to win a championship." 
The team also visited Georgia Tech for a 7–on–7 camp hosted by Georgia Tech's head coach Geoff Collins. 
"My favorite part of Georgia Tech was probably seeing the locker room just because all the different things they had in it and just being in a college locker room for the first time," junior Aveon Smith said. 
Cheer visited University of South Florida for a week-long Universal Cheerleading Association camp. 
"It made us stronger and it made us more built," sophomore Ashlyn Solomon said. "We bonded as a team a lot."