Florida Georgia Line creates country craze at amphitheater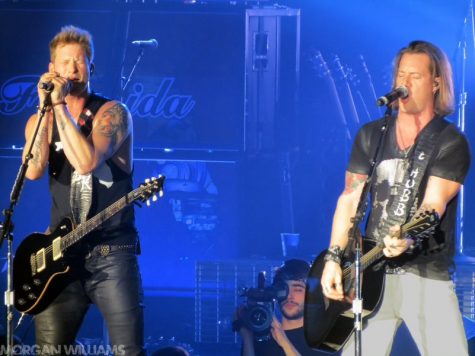 Friday, Aug. 30 was an important night for country-loving students as Florida Georgia Line came to the MidFlorida Credit Union Amphitheater for their "Can't Say I Ain't Country" tour. 
"Honestly, I've never been the biggest country fan, but this concert was amazing," junior Sofia Sincell said. "It was the first country concert I've ever been to and now I definitely want to go to another one. I went for one of my good friend's birthday, and we all took a party bus to the amphitheater which was so much fun." 
Canaan Smith kicked off the night, singing his brand new single "Beer Drinking Weather." 
Next up, Morgan Wallen took the stage and had everyone in the audience singing along to his songs such as "Whiskey Glasses" and "The Way I Talk." He also popped out again later in the night with Florida Georgia Line, performing one of the most anticipated songs of the night, "Up Down." 
"My favorite song was 'Whiskey Glasses' because that's the only song I know by him and it's a really good song," junior Ellery Vanaelst said. 
Then "Dan + Shay" came out and got everyone in the amphitheater screaming every word to their endless list of popular songs including "Tequila," "Speechless," "How Not To," "All To Myself" and many more. There was not one person on the lawn not dancing in the rain that started to fall during Dan + Shay. 
"It started raining which at first stressed me out, but the rain actually made it 10 times better!" Sincell said. 
All of these performances paved the way for the main act of the show, "Florida Georgia Line." 
"'May We All' is probably one of my favorite Florida Georgia Line songs," Vanaelst said. "I was waiting for it to come on the whole concert and it finally did." 
Florida Georgia Line played songs like "Talk You Out Of It" and "Y'all Boys" from their new album "Can't Say I Ain't Country." They also played a multitude of their older songs such as "Anything Goes," "Dirt," "Round Here," "Cruise" and "Confession," to name a few.  
"My favorite part was how Florida Georgia Line sang a bunch of their old songs as well as their new songs," sophomore Pearson Heim said. "It was such a great concert and being with my friends made it even better."