Swimmer qualifies for Olympic Trials
Kate Carnante, Sports Editor
September 19, 2019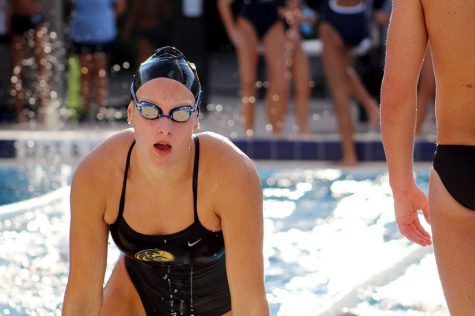 Ten times a week, junior Ella Bathurst arrives at Bobby Hicks Pool for swim practice and has been doing so since she was 6 years old.  
"Originally, I got into swimming because my parents wanted all my siblings and I to be safe in the water," Bathurst said. "We all had to do one season of swimming just for safety purposes, but then I liked it, so I kept going." 
Bathurst now swims for a club team, the Tampa Elite Aquatic Manta Rays. While participating in a recent meet at Stanford University in Palo Alto, California, Bathurst qualified for the 2020 Olympic Trials. 
"It was super exciting because I didn't really know that I made it at first," Bathurst said. "I touched the wall, and I didn't turn around and see the score board right away." 
When she qualified, she was in California competing at Junior National Championship with all her teammates around her. 
 "I just heard my team cheering, so I was like 'Oh boy this is either really good or really bad,'" Bathurst said. "Then I turned around and figured out I made the team."  
To qualify for the Olympic Trials, the swimmer must swim a certain event in a certain time. For the 200 freestyle, the time needed in order to qualify is 2:01.69. Bathurst swam her 200-meter freestyle in 2:01.49. 
"Anyone can qualify if they get a certain time," Bathurst said. "So, my whole team just went to the meet to improve, and I'm just happy to make the cut."  
The Olympic Trials will be held in Omaha, Nebraska during June of 2020, but until then Bathurst will continue her training in preparation for this summer.  
"We swim two times a day most days of the week and we do our weightlifting two or three times a week," Bathurst said. "I'll just keep that up until the summer." 
Bathurst knows that the trials will be a great learning experience no matter how she does. In fact, there are many things she has learned after ten years of swimming.  
"Swimming has helped me gain so many life skills," Bathurst said. "It has helped me with time management and dedication. It has also helped me make lots of friendships all over the country."