Pop star defies mainstream standards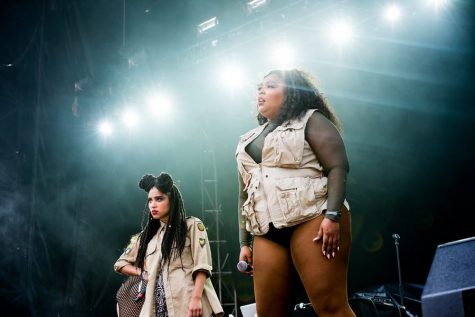 Pop singer Lizzo, who reached the top of the charts this year, has forged a crack in the thick walls of society's beauty standards. Her soulful, silky voice and her empowering lyrics can make anyone put their hands up and dance around, without a worry about who's watching. Her music gives a sense of belonging to listeners, no matter what color, gender or size. 
Her talents have led to great achievements, including being labelled by Time Magazine as one of the Musical Acts to Watch in 2014, as well as being included in Rolling Stone's Top 20 Best Albums of 2016. Her song "Truth Hurts," from her latest album Cuz I Love You reached No. 1 on the Billboard charts this year and has stayed at the top for over four weeks. It also recently broke records, becoming the longest solo female rap song to be at No. 1 on the Billboard charts. 
Lizzo is one of many mainstream artists bending how people perceive beauty. A movement of body positivity is on the rise, influencing large companies to represent more body types in their ads. 
Since the dawn of entertainment and advertisements, women have been portrayed as slim. Male models have also traditionally been held to high physical standards as they are expected to have toned torsos and to never be chubby or scrawny. These expectations are shifting, and companies are running with it. 
Femvertising -advertisements that employ pro-female talent and imagery- is popular with companies such as Aerie. Aerie's ad campaigns show off what they call real women, because the company chooses not to retouch any photos of their models to present an authentic feel of what the female body looks like. In recent years, Target, Everlane, JCPenney and Dove have all made ads about women empowerment. 
Despite all the of the recent media coverage on empowerment and self-love, Lizzo posed nude for the cover of her new album, "Cuz I Love You," sparking debate because of the nudity. Lizzo's response when asked about her album cover in an Essence interview was that she loves her body, and how she uses it to create and enhance her artistic style. 
Even singer Miley Cyrus has been criticized for her plus-sized promotion. A photo of Angelina Duplisea, a well-known plus-size model, was posted on Cyrus's Twitter account and responses were strong, either in support or opposition. One woman on Twitter was not afraid to voice her opinions. She ranted about how how she believes Duplisea is obese and that her health should not be praised. She also remarked that society is too sensitive about image.  
The lines of what is empowering and what is simply unhealthy are blurred. For most people, the subject of beauty along with weight can be uncomfortable, but in the end, everyone just wants to be accepted.  
Lizzo shows over and over again through her music and her actions that your view of yourself is what is most important. She once said in a Junkee interview that her movement celebrates diversity, and that what she stands for is inclusion. She has continuously been known for her positivity and unapologetic love for herself and hopes everyone that hears her songs can speak up for their own individuality. Mainstream artists, especially woman, are highly criticized and for their personalities and looks, so it's refreshing to see a break in precedent.