Alumni class of '69 reunite at campus tour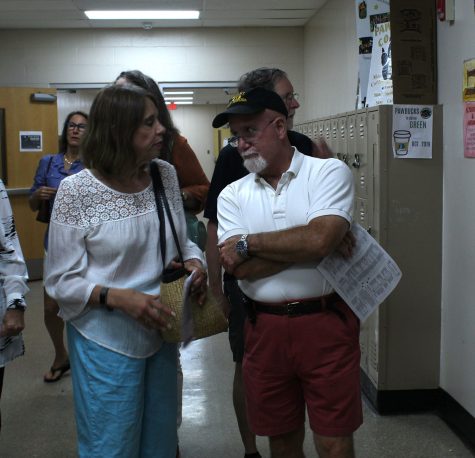 The school's halls were filled with a generation of Plant alumni Friday, Sept. 20. Splitting into several groups, the class of '69 received a tour of the school campus so they could look back upon memories and see renovations made to the school since they said goodbye many years ago.   
"It's just an incredible school," 1969 co-captain of the Danceros Vicki Hoffman said. "To see it expand like this, and they gave us these bragging sheets of the college acceptance percentages, it's amazing."   
Vicki married her high school sweetheart, Joe Hoffman, and has remained married for 47 years. Coming back and visiting the school was an amazing experience according to the Hoffmans, and they've made sure to stay in contact with their other classmates.   
"We have about five couples that we get together with once a year," Vicki Hoffman said. "We all married our high school sweethearts."   
The other co-captain of the Danceros, Marie Cagno Rumph, was also able to come and experience the tour. Rumph especially enjoyed seeing current students throughout the visit.   
"I loved seeing the auditorium because we used to do Christmas shows there," Rumph said. "It was so exciting to be at our school and see all you kids."    
In the 50 years that have passed, many changes have been made to the school's structure, as well as the rules. Whole buildings, like the media center and the new building, were non-existent for the class of 1969, and according to the alumni, some of the courtyards used to be smoke areas where kids lit up.   
"Everybody was allowed to go to Steak and Shake during their lunchtime," alumnus John Gulley said. "That was my first job back in 1966. It was a great experience."  
Many of the alumni exchanged hugs and smiles as they arrived and reunited with the each other at the school. The graduates talked amongst each other regarding old stories and even hung back to reflect back on memories at the football field, courtyard, and personally special classrooms.   
"It has been very exciting to see the gym where I played basketball and go to the cafeteria where we did everything but eat," Gulley said. "It was a good time, to see the classrooms and everything just looks really well kept and well maintained. We've got some great memories here."