Halloween Horror Nights raises the bar again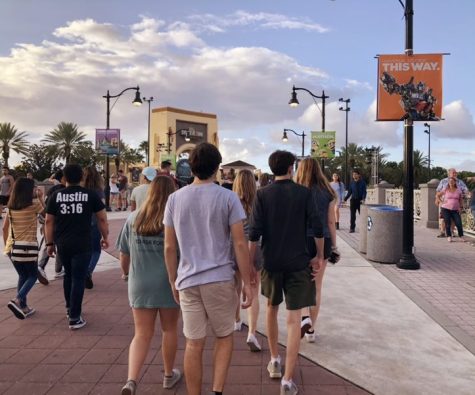 As Halloween arrives, I decided it would be a fun idea to drive to Orlando and get a scare. With the abundance of haunted houses, scare zones and rides, Halloween Horror Nights at Universal is the perfect place for an adrenaline rush.  
The park has 10 haunted houses, all with varying themes. Since Halloween Horror Nights is affiliated with Universal Studios, the park has the rights to theme their haunted houses surrounding famous movies and tv shows.  
Two of the most anticipated houses were themed on the beloved sci-fi television show "Stranger Things" and "Us," which is Jordan Peele's recent thriller.  
My favorite of the two was the "Us" house because it resembled the movie's storyline so well.  They made sure to include the storyline chronologically throughout the house, as if you were in the movie. The actors even looked like the characters, including the hair and the costumes.  
Universal also did well in the sense that small details from the movie were considered and incorporated into the house. The house contained jump scares from the movie, signs found throughout and even the rabbits, which was a nice touch.  
After exiting the houses, you'd find yourself in a scare zone, a place where people are dressed up with costumes, hair and makeup based around a general theme like the Anarch-ade and the Vanity Ball. They were designed to look scary in order to catch you off–guard on your walk to the next attraction.  
The Anarch-ade was my favorite of the scare zones because it was well decorated with neon lighting and bright colors. As you walk through, people holding chainsaws with LED lights wrapped around, would come up from behind you or from your side and trigger the chainsaw to rev the motor. As a result, people would jump and scream in fright and run away as fast as they could.  
Another feature of the park is the rides. Universal is famous for their Rip Ride Rockit, a rollercoaster that allows you to choose a song to listen to while on it. It adds an extra boost to your energy and adrenaline, as if it wasn't already high enough. 
If the crowd is looking for something more low-key, the park has simulator rides like Transformers and The Simpsons. They feature 3-D screens and rooms that make the rider feel like they're moving along with the characters on screen. 
The only thing I'd complain about is the lines for each attraction. With such a large amount of people wanting to go, the lines range from fifteen minutes to over an hour. However, each line was worth the wait. 
As much fun I had attending this year, I'm excited to visit next Halloween and entail the excitement all over again.