Boys cross country heads into postseason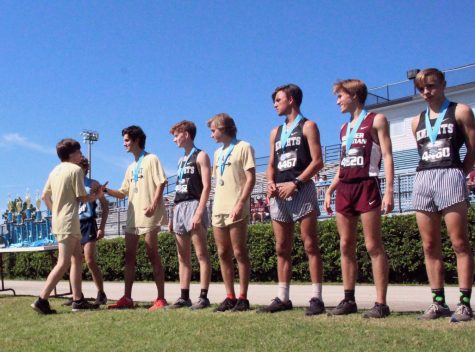 The boys cross country team is running into the postseason and chasing a possible 4A state title as they are considered the best boys cross country team in all of Plant history. 
"It's exciting, but it also means that we have to focus even more because we have a chance to win like the girls have done so many times," coach Mike Boza said. "It's all fun and games when you're trying to be in the top seven or eight or five, but when you're trying to win, it's a lot more stressful and it puts a lot more pressure on you." 
The team has the lowest team average in school history (16:12), and an equally impressive team spread of 63 seconds. 
"I feel like Coach Boza has gotten us here just by helping us put in the miles over the summer and really focusing on how you just have to work hard to achieve your goals," sophomore Ryan Maney said. "It's not just going to come to you without working on it." 
Boza has trained the boys cross country team for nine years. He coached from 2007-2012, took four years off, and is now back for his third year with the team. 
"This team is special because they've been building up to this for the past three years," Boza said. "Since I've been back into the program, we've slowly built up how hard we work and how many miles we run, so they're now getting a chance to get the benefits of their hard work." 
The boys put in miles nearly every day running on the track, hills, trails and Bayshore. 
"We have been doing some really hard VO2max workouts at the golf course up in Temple Terrace with lots of hills, and we've really taken advantage of that, especially in the heat," junior Wynne Thomas said. "We've just been doing lots of miles that have gotten us ready and made us stronger for races." 
Maney and senior Lee Gibson lead the team as the top two runners. Gibson has climbed his way to #5 in the state with a breakout cross country season, breaking 16 minutes for the first time at the North Port Invitational Sept. 21 with a time of 15:42 and two weeks later PRing again at the Great American Cross Country Festival in Cary, NC, running a 15:36. Maney trails right behind Gibson as #9 in the state with his best time of 15:52.  
"Me and Lee have been working together all last track season and this year just by being able to push each other to run faster and just being good teammates," Maney said. 
Thomas is also a significant contributor to the team as the third runner and has improved steadily this season, dropping from a time of 17:03 to 16:15. Junior Nathan Dye, sophomore Ashton Stringer and seniors William Carlson and Tristan Vanhorn make up the rest of the varsity team. 
"I think our team has a shot at winning states because we've beat many 4A teams and we're in really good form for the postseason," Thomas said. 
But winning the 4A state title will not be an easy task. The boys are ranked #2 behind Steinbrenner High School as of now, and they will face even more competition as the postseason approaches. 
"Steinbrenner, Bartram Trail and Nease are probably more formidable than Newsome," Boza said. Newsome could win it too, but 4A boys is really, really, really competitive and tight. There are five or six teams that really could win it." 
The boys will race at districts Oct. 22 at Al Lopez Park where they will go against Steinbrenner. Regionals will be on Nov. 2 at Lake Region High School, and the state championships will take place Nov. 9 at Apalachee Regional Park in Tallahassee. 
"We're going to maintain our mileage for a couple more weeks, and we've added some speedwork and some intervals," Boza said. "Then probably like nine or ten days before states we will start tapering."