Boys cross country makes history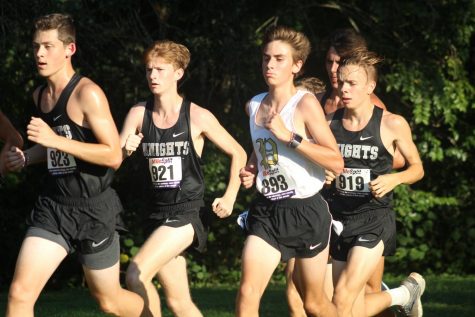 Despite missing a podium finish, the boy's cross country team wrapped up their season with a successful performance at the FHSAA 4A state championship meet, finishing third out of 32 teams with the best team time in the history of Plant boys cross country. The state finals were at Apalachee Regional Park in Tallahassee Nov. 9. 
"We were expecting to compete for the championship and give our best race," junior Wynne Thomas said. "We came up a little short of what we wanted to do."  
Having been ranked second in the state for most of the season, the team was expecting to earn a spot on the podium (first and second place). However, Nease High School came in second instead with a score of 140, beating the Panthers by just five points and placing them in third with a score of 145. Steinbrenner High School, who was favored to win, came out victorious, scoring 129 points. 
"I think we were really close to doing something special," Thomas said. "It's just not everybody was there. A lot of us have good days and some of us have bad days. Overall it was a good performance." 
Plant was in first for most of the race. It wasn't until about the last half mile that Steinbrenner and Nease pulled through and came out on top with faster times. 
"I would do it again the same," coach Mike Boza said. "We had to go out aggressively. We were the underdogs and had never beaten Steinbrenner before. We used an aggressive strategy and it almost paid off." 
The team had an average time of 16:16 and a spread of only 54 seconds, making this race the team's fastest of the season and Plant boys cross country history. 
"I thought it was a great performance," Boza said. "We still came up short, but it wasn't because we didn't run great; it was just because a couple of other teams ran a little better." 
Senior Lee Gibson (15:54) and sophomore Ryan Maney (16:01) earned medals as they placed in the top 15. Thomas ran a season best of 16:14, finishing as the team's third runner. Sophomore Ashton Stringer ran a personal record (PR) of 16:23 and coming in fourth for the team. Junior Nathan Dye ran 16:49 as the fifth runner, meaning that all five runners broke 17 minutes. 
"I am very pleased with how the team has developed, because we have eight boys who are now in the top 40 times of Plant history, and we have three boys who are in the top ten times of Plant history," Boza said. 
This race was the last for seniors Lee Gibson, Trey Carlson (17:19) and Alex Coffey (17:22).   
"It's kind of weird being able to just say that was my last race," Carlson said. "Being able to run with those guys, no matter what kind of race it is, it's a good race." 
The boys have been training together since the beginning of summer by running on the track, hills, trails and Bayshore. This year they placed first at districts and second at regionals. 
"We have definitely grown tighter," Carlson said. "Last year we didn't really have the team chemistry we have now, just to be able to kind of go out and do things outside of running." 
Boza has trained the boys cross country team for nine years. He coached from 2007-2012, took four years off, and is now back for his third year with the team. 
"This team is special because they've been building up to this for the past three years," Boza said. "Since I've been back into the program, we've slowly built up how hard we work and how many miles we run, so they're now getting a chance to get the benefits of their hard work." 
Gibson has climbed his way to #6 in the state with a breakout cross country season, breaking 16 minutes for the first time at the North Port Invitational Sept. 21 with a time of 15:42 and two weeks later PRing again at the Great American Cross Country Festival in Cary, NC, running a 15:36. Maney trails right behind Gibson as #10 in the state with his best time of 15:52.   
"I feel like Coach Boza has gotten us here just by helping us put in the miles over the summer and really focusing on how you just have to work hard to achieve your goals," Maney said. "It's not just going to come to you without working on it." 
Under Boza, the top five finishers' times at the state meet were faster than the team's second finisher at the same meet last year. 
"I think we have come a long way from all the way back in June when we started training, and I think we just built a strong program," Thomas said. "We're going to be good the next few years. I'm looking forward to it." 
With Gibson being the only senior in the top five scorers, boys cross country has the potential to win a state title in the future. 
"It just made us hungry for next year," Boza said. "We are very hungry."