Luke Combs returns with another noteworthy album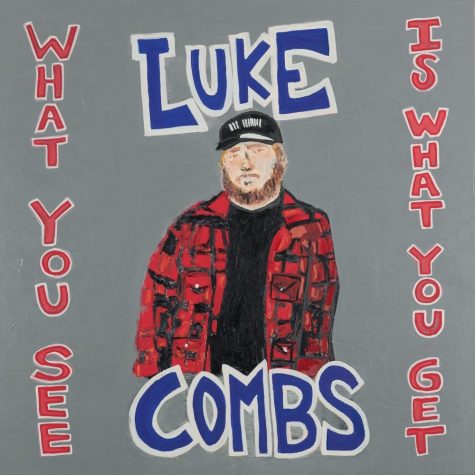 Luke Combs is back with another great album titled "What You See is What You Get". Combs has a mixture of honky-tonk songs, sensitive ballads and songs with a fast-pumping rhythm. He released a total of 17 songs on this album, a large amount to have on one EP.  
It was released Nov. 8 this year, creating excitement among the country music community.  
With his outstanding vocals and exquisite instrumentals, this album is one of my favorites within the country realm.  
The first song listed is called "Beer Never Broke my Heart". It's a very country-sounding song, beginning with a heavy guitar and Combs' strong southern accent. The lyrics are personal to Combs. The song is about girls who broke Combs' heart as well as other things letting him down.  
He mentions how even football teams have torn him apart. One thing Combs can rely on is a "long neck ice cold beer" that never broke his heart, as the title of the song explains.  
A slower and more hearty song is "Dear Today", the eleventh song listed on the album. The instrumentals consist of a single acoustic guitar.  
The song is speaking about how if the male subject in the song doesn't change, tomorrow will come, and all will be the same. Combs sings about time being wasted and taking people for granted. This puts a message in the song not only for the male subject at hand but the listeners as well.  
The album includes more songs Combs has written to relay messages and get advice across. He intelligently does this through music, something Combs is very talented at.  
My personal favorite song on the album is called "Even Though I'm Leaving". The song mentions how his father, despite the fact Combs and his father are separate physically, will always be right by his side.  
When listeners hear the song, they can apply the meaning to different situations. If someone passes away, they may not be able to hug them anymore, but they'll always be in each other's hearts. If you can't call someone because they're busy, they're still thinking of you.  
The message in this song is one I can relate to, making every listen even more enjoyable.  
Finally, the song the album is named after, "What You See is What You Get", describes Combs' personality. He lists traits of himself that people don't have to search very far for. He implements the country side of him when talking about the things he likes doing.  
The song is a representation of the whole album because his songs are about his experiences and the ways he thinks about life. His album describes who he is without having to go into detail, and you can get a lot of information about him this way: what you see is what you get.