"Enchant" is highlight of the holiday season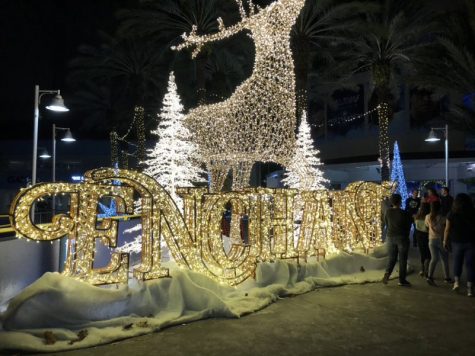 While the baseball season has ended, Tropicana Field has hosted an event called "Enchant." This event fills the baseball field with trees, Christmas lights, a maze, an ice-skating rink and a market. Held only in Washington D.C., Seattle and Tampa, "Enchant" has arrived.  
It is held Nov. 22 through Dec. 29. The general admission cost varies depending on the package you buy. The admission includes facility fees and taxes. For a family of four plus a dog and two guests, the total was $182. 
Not only could you experience this with friends and family, but there were select nights where dogs were allowed for an additional $20. I argue it was worth the small price. Getting to pet the variety of dogs at the event was a highlight.  
When we first walked into the field, we were amazed with the large display of lights. There were a lot of people standing in the entrance taking pictures, already showing their awe. It was a perfect opportunity for families to take pictures to remember the memories they were creating. 
With the series of things to do at "Enchant," it was hard to choose which to tackle first. My family and I decided to take on ice skating. After renting the skates, we hopped onto the ice. It was quite crowded which made it more challenging, but also more fun. Light displays surrounded the rink and increased the holiday joy. 
After skating, it was time to head over to the market. With a variety of options for food, it was hard to decide what to eat after working up an appetite. The market offered grilled cheese, pizza, soup, burgers, turkey legs, waffles and more.  
After indulging in some pizza and grilled cheese, I decided to head to the local shops. There were little places selling sweets like Nothing Bundt Cakes and Kahwa. They also featured items you could buy at an actual market like clothing and trinkets.  
My favorite aspect of "Enchant" was their maze. All throughout, the maze was decorated with lights and trees. A feature of the maze was the scavenger hunt. The goal of the scavenger hunt was to find Santa's reindeer. The reindeer were colossal and made up of lights themselves. Despite the reindeer being so large, they were hard to find with the maze being huge itself.  
"Enchant" Christmas in St. Petersburg at Tropicana Field was a holiday experience that I'll never forget. Being surrounded by family and friends during this experience was something I'm going to cherish. The dogs, lights, food, market, maze and skating were great touches that enhanced the experience. I highly recommend that people attend to enchant their holiday.