New Italian restaurant Olivia offers classy interior for creative food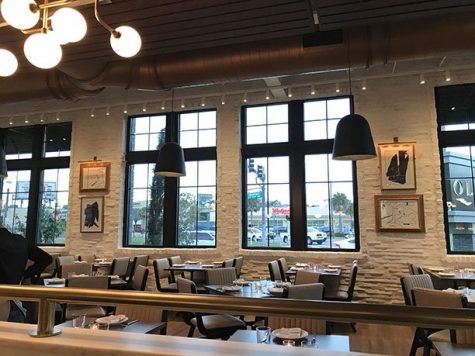 Chatter bounces across tables as lights shine through clear, wide windows the second night of new Italian restaurant Olivia's opening. The redesigned building features a classy, modern-looking Italian theme with white walls and black tables as semi-rustic brick-motifs personalize the look. With pleasant scenery in the interior, Olivia offered flavorful food for varying prices.  
After demolishing the previous restaurant Carmel, Olivia underwent a full reconstruction process to construct and furbish the new building. 
With adequate seating consisting of an array of booths and tables, Olivia presented a stylish, fresh interior. Though slightly offset by the overall noisiness of the establishment, Olivia was redeemed by a generally pleasant atmosphere.  
After seating, our waiter was polite and funny, and although his knowledge of the food wavered at certain points, it was understandable due to the new and growing menu.   
After ordering two appetizers, they came out quickly smelling of Italian herbs and oil, radiating warmth and comfort. The polenta fries were innovative and delicious. The warmly cooked Italian grits were perfectly paired with a smooth tomato sauce and savory parmesan cheese. The mozzarella dish was almost as equally pleasing; Soft, fresh mozzarella was paired with a crunchy slice of bread, garlic-olive oil, a tad too much salt and a balsamic reduction.  
For my main dish, I ordered an appetizer of mussels but instead ate it as a meal as I was not in the mood to pay over $20 for pasta. I also was able to taste their orecchiette (a sausage and squash pasta) and the cacio e pepe (spaghetti-noodles with a white sauce).  
The mussels were adequately cooked and an overall agreeable meal but lacked pizazz or noticeable freshness. The orecchiette was a unique dish that surprised me (as I initially thought a squash and sausage pasta would be icky) with a creative combination of flavors and textures. The cacio e pepe was a plate that could appease the pickiest of eaters (as it had a subtle flavor profile), with a white cheese sauce that didn't take any risks, but tasted spiffing.  
The dress level of the restaurant was slightly nicer than Carrabba's, but much less demanding in attire than Seasons 52. I personally wore jeans and a sweater and was comfortable in my casualness but felt as if I could've dressed nicer if I wanted to. 
While the texture and taste of food Olivia offers are commendable, this is no place to eat on a restrictive budget, although their prices seem commendable for the quality of the interior. Their main dishes averaged about $20 each (with some stretching to $39 with the lowest at about $14) while appetizers were in the $5–20 range, reflecting prices of Carrabba's. I would recommend Olivia for special occasions or an opportunity to try creative Italian food; overall, it definitely switches up the humdrum of only eating Italian food at Carrabba's.