Mediterranean kitchen offers vegetarian options with an authentic feel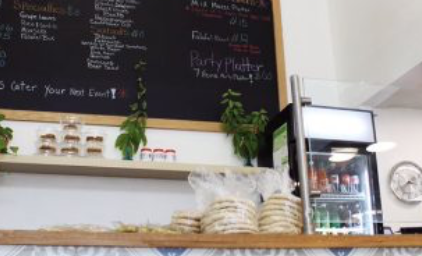 Blue and white motifs adorn perfectly painted walls, which reside adjacent to an assortment of Mediterranean hummuses, bean salads and other authentic foods of the variety. The Mediterranean Chickpea is a small but friendly establishment located in the Bayshore Plaza on MacDill, serving fresh vegetarian and vegan options for a reasonable price.  
Upon entering the restaurant, we were greeted by a friendly member of the staff, who, in light of our indecisiveness regarding the menu, remained patient and offered helpful recommendations. We decided on the Mixed Mezze Platter, which consisted of five samples of your choice between salads, dips and specialty sides. 
For our salads, we ordered a white bean salad, chickpea salad and traditional tabbouleh salad consisting of the usual parsley, tomatoes and lemon (my personal favorite, being of Lebanese descent). Following the staff member's recommendation, we chose the cilantro jalapeño hummus, and per my request, the grape leaves.  
I especially enjoyed the tabbouleh and hummus, two dishes I've been subject to since childhood, having a Lebanese grandmother with an affinity for cooking. Though the tabbouleh served at the vegan-friendly restaurant may not prevail against the throes of a grandmother's culinary ability (and personal, entirely biased favoritism, that is), the Mediterranean Chickpea's take on the Middle Eastern classic is undoubtedly authentic, fresh and a flavorful illustration of Mediterranean heritage. The cilantro jalapeño hummus offered a unique flavor with the perfect amount of spice that went well with the complimentary pita bread. The chickpea salad was a savory addition to the meal as well.    
The order cost $15, which, when split between two people, was a commendable price, seeing as though the servings were large enough to leave us with leftovers. Overall, the Mediterranean Chickpea stays genuine to its origin style of cooking and is worth a visit for anyone looking to try reasonably priced authentic Mediterranean and Middle Eastern classics.