Vegan café provides a unique menu for residents of downtown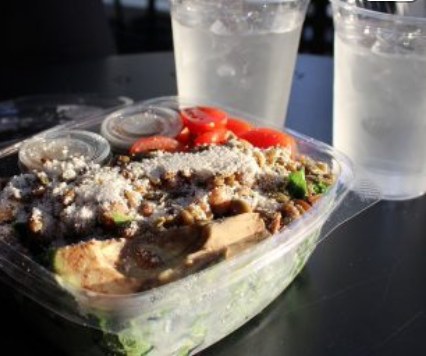 High ceilings and colorful assortments of plant-based snacks characterize Farmacy, a charming bakery and kitchen located inside the Duckweed Urban Grocery of Tampa's downtown. While the name may leave some confused at its first mentioning (Farmacy being a play on words rather than a medical vendor), the restaurant deserves special praise due to its menu, which is full of highly inventive options difficult to find elsewhere in such a city as Tampa. 
On the menu, you'll find selections ranging from unique to bizarre—take the one section of the menu dedicated to vegan Philly Cheesesteaks, or dairy-free baked goods, like donuts and cupcakes. The menu boasts a wide array of sides as well, ranging from cashew mac (without the cheese) to curry chickpea salad.  
Upon entering, we found the Duckweed grocery, a compact arrangement of rows which shelf the likes of various organic companies, as well as some more common brands. The store, conveniently placed below a residential area of downtown Tampa, is joint directly with the vegan corner, readily available from 9 a.m. to 6 p.m. for locals who flock to the spot for quick, healthy snack or meal. As we went closer to closing time, the space was less busy and therefore service was easy and quick.  
After a few minutes spent attempting to narrow down the menu's variety, I ordered the Mean Black Bean, a veggie burger complete with a mango slaw and the typical toppings (pickle, tomato, etc.). The burger came accompanied by a side salad of mixed greens, cucumbers, and tomatoes, with a tart yet flavorful green dressing.  
I found that the fresh ingredients and eccentric use of flavor were what made the dish as memorable as it was. The bean burger triumphed over several I've had in the past, with its fitting combination of a fresh, somewhat sweet slaw and the savory taste of the burger. 
Though the price is somewhat high in my opinion (my meal being $9.99), the high-quality ingredients and rare variety are well worth a try, whether you're vegan or just in search of something different to add to the list. Downtown Tampa provides a seemingly endless catalog of ever-impressing restaurants; however, I believe Farmacy Vegan Kitchen stands out in its endeavor to serve health-conscious meals that benefit both the customer and the planet.