Panther to Met
Pete Alonso reflects on historic season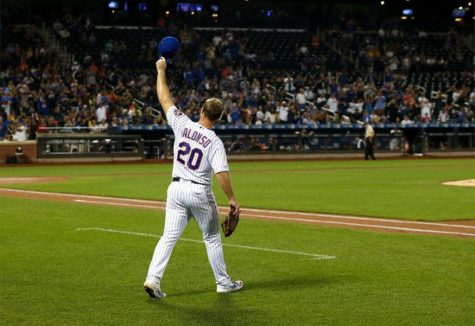 A crowd of over 30,000 Mets fans stood up and cheered when Plant alumnus Pete Alonso hit his record-setting 53rd home run of the season over the center-field wall. Two months later, Alonso received 29 out of 30 first-place votes from the BBWAA to win the National League Rookie of the Year Award. Alonso said that he was very humbled regarding his success.  
"I'm kind of taken back by all of this," Alonso said. "It's incredible to think about, and it's humbling for sure."  
Alonso transferred from Jesuit to Plant in his junior year of high school. He played under coach Dennis Braun for two years and then continued to play at the University of Florida. In his journey through the minor leagues, Alonso focused on improving his defense.            
"I had a really bad year defensively in 2017," Alonso said. "I had to revamp my defensive game and prove to people what I could do defensive wise. To be honest, the game of baseball is such a game of failure. It's so hard to be good for an extended period of time. It's a constant game of adjustments and a daily grind and challenge to stay on top, be competitive, and win.  
On Thursday, June 9, 2016, Alonso was selected by the New York Mets in the second round of the first-year player draft. After three seasons in the minor leagues, Alonso arrived at the majors. Throughout the season, Alonso said he was able to make bonds with his teammates.  
"I had such a really good relationship with all my teammates," Alonso said. "I'm really thankful that I had them in my first season. I'm not just thankful for the veterans, but I'm also thankful for the younger guys and pretty much everybody. They all played a part in my development, and I'm really happy that I got to experience it. This team is always going to be very special to me."  
By the end of the season, Alonso's ended up with a batting average of .260 with 53 home runs and 120 RBIs. Alonso also became the second rookie to win the home run derby and was selected by baseball fans to play in the All-Star Game. Being in the New York Market, Alonso received attention from the media. Throughout the year, he had to adapt to being in the spotlight.  
"I'm a normal guy," Alonso said. "I would want other people not to think I'm just some out of touch athlete. I want to be treated like everyone else, and I want to be talked to as a regular, respectful human being. I want to be respectful to other people, and if you're going to talk trash or talk negatively, then either don't say it, or you're just setting yourself up for failure."  
Alonso won the Rookie of the Year Award over a heavy rookie class, including Atlanta Braves' Mike Soroka and San Diego Padres' Fernando Tatis Jr. However, Alonso was more focused on winning than his success.  
"I didn't know if I was going to win it because there was a ton of talent that came into the big leagues this year," Alonso said. "I didn't think I was a shoo-in because other people had great years. Overall, I just wanted to focus on helping my team win day-to-day. We were pretty much in the playoff hunt until the last week of the season. I was just focused on winning and helping my team get a playoff berth."  
When growing up, Alonso said he admired and looked up to multiple players. Although some of his favorites have now retired and are in the Hall of Fame or on the Hall of Fame ballot, he has gotten the opportunity to play against players he grew up watching.  
"I was really lucky to grow up when I did because there were so many awesome role models for the game of baseball," Alonso said. "Being a Mets guy, I loved watching Mike Piazza and Paul Konerko. Being a hometown guy, my favorite player from the Rays was Evan Longoria. I loved watching him when he was with the Rays."  
Alonso also looks to get better by learning from current players. He said he watches other first basemen who have experienced success in the big leagues and learns from their work ethic.  
"The one guy I want to emulate and be like is Paul Goldschmidt," Alonso said. "He encapsulates a complete baseball player. He can run the bases well, not just hit for power but also hits for a high average. He has gold gloves, silver sluggers, and he's an MVP candidate. He's pretty much anything you can really want as a first baseman and as a leader. I admire his play, and I want to be like him."  
Throughout the season, Alonso earned nicknames such as "Pistol Pete" and "The Polar Bear" and grew a fanbase of all ages. He had the 14th most popular selling jersey in 2019, along with dozens of all-star players. Alonso encourages his young fans to keep going no matter what stands in their way.  
"Never say no, never quit," Alonso said. "There's always someone that's going to be doubting you, and you're going to need to prove something to that guy. Regardless of what obstacle it is, just keep going, and whatever happens, just know that you worked your hardest and made it happen. At the end of the day, that's all that matters. If you stay dedicated to your craft, and you do everything that you can possibly do, good things are going to happen. When people say 'Pete, I want to be like you,' that's awesome. But with that, there's so much sacrifice. You have to be willing to put up with the sacrifice. So work hard, stay humble, and never give up."    
Alonso is looking to improve on becoming more of an all-around hitter next year. He looks to keep his home run power, but he also wants to improve on his .260 batting average and become more disciplined in the batter's box. Alonso looks to help the Mets improve on their 86-win season in 2019 and hopefully make the playoffs in 2020, their first appearance in four years.  
"I think home runs are just products of a quality pitch to hit," Alonso said. "I'm not trying to hit more or less home runs next year. I just want to be a complete baseball player. I want to evolve as a hitter and be more disciplined at the plate. I want to be able to hit for a good average with some power and just be all-around productive. We have an exciting group, and I think it's going to be an awesome year next year.