BOLTS WIN! 
Students, teachers share their Stanley Cup experiences
After fighting for five years, the Tampa Bay Lightning brought home the franchise's second Stanley Cup after winning Game 6 of the Stanley Cup Finals 2-0 against the Dallas Stars on Monday, Sept. 28.  
Lightning fans welcomed home their hockey heroes Tuesday as they routed around Tampa in trolleys, their first time out of their hockey "bubble" in Canada in 65 days. The celebration continued Wednesday during a downtown boat parade and Stanley Cup Celebration at Raymond James Stadium. 
Plant students and teachers watched the game Monday night with friends and family and relished in the Tampa victory in various ways.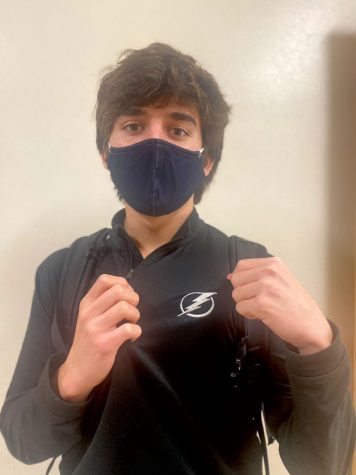 Ian Curran (12) 
"My friends and I had to sneak into Sparkman because it was so packed. We took the chance of getting caught and it was worth it. Everyone there was so happy about the game and ready to win. Right when it came down to the one-minute mark, everyone there could feel the cup. We started the countdown, and right when it hit zero it went absolutely crazy. People I've never met before hugged me, beer was getting shot like champagne and people started to cry. After the game we rode around in the car and there was not one person who didn't scream 'go Bolts' at us. The whole city of Tampa was in downtown outside of the arena happy we won the cup."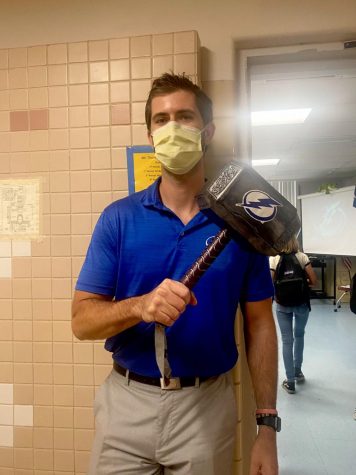 Kurt Thoreson (science teacher) 
Science teacher Kurt Thoreson enjoyed the games at Sparkman Wharf as well. However, he was away from Tampa in Arizona for Game 4 and Game 5, where the Lightning had a chance to win. However, the Lightning lost in double overtime that night, pushing their chance to win back another game. 
"I would have been a little disappointed if they had won while I was away from Tampa," Thoreson said. "I wanted to be in Tampa. During Game 5 I'm thinking 'I want them to win, I don't want them to win because I'm in Arizona.' They lose in Game 5 so I'm thinking 'oh, darn.' Then I come back to Tampa, go to Sparkman Wharf, watch the game with a few thousand people, and we were all just counting down and when it finally happened it was just like 'finally.'" 
The last time the Lightning won the Stanley Cup was in 2004, the year Thoreson graduated high school. Now, he has a new pennant to hang on his classroom wall, showing off the Lightning's Championship dub. 
"This team was due," Thoreson said. "It was their time. With the crazy year it has been, it was amazing that we had finally had something to enjoy in 2020."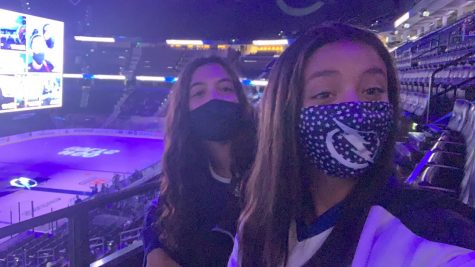 Bella Swartz (11) 
Junior Bella Swartz cheered on the Lightning inside Amalie Arena with her family as Season Ticket Members were able to obtain tickets to watch the game live on the jumbotron at their home rink.  
"When the clock was running down, it honestly didn't even feel like it was going to happen because it seemed so unreal with everything that had been going on this year," Swartz said. "I've been a lightning fan for like 10 years, and for this year to finally be the year felt so weird. It just felt so surreal. The Lightning team is the best team ever because the community around the Lighting feels like a family."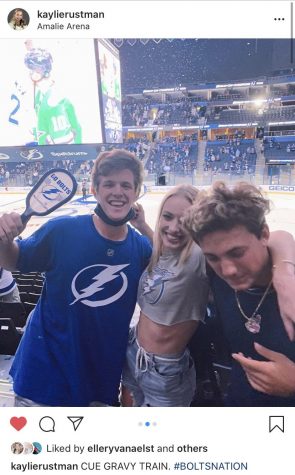 Kaylie Rustman (12) 
Senior and STM Kaylie Rustman also cheered on the Lightning from Amalie and celebrated in Thunder Alley after the game.  
"The best part of the night was seeing everyone after the game outside of the arena jumping around and all the cars honking when they saw Lightning jerseys," Rustman said.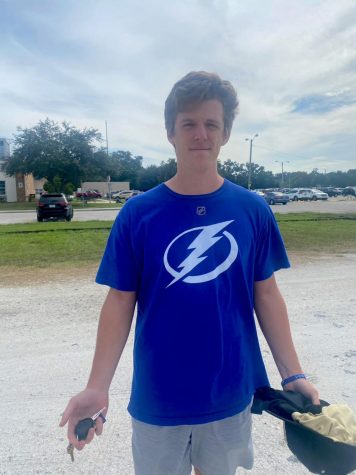 Sam Meade (12) 
"The best part of the night was blasting 'Gravy Train' on repeat as I watched the team celebrate with the Cup. I play it after every game they win and can't listen to it before a game or else it's bad luck. Now that they won, I don't have to stop playing it." 
[picture] 
Tyler Mayts (10) 
"I was feeling relief, joy and happiness. I celebrated with my family and friends and welcomed the team back home at the events. The best part of the night was knowing we had finally won after five years in the making and could release the tense and hopeless feelings." 
Michael Messano (U.S. history teacher) 
"It was a nice distraction from all of the other nonsense that's going on in the world right now, and it was a relief to see them finally break through and win the cup because they have been on the edge for five years now. I was really happy for the team because there's a lot of good guys on the team."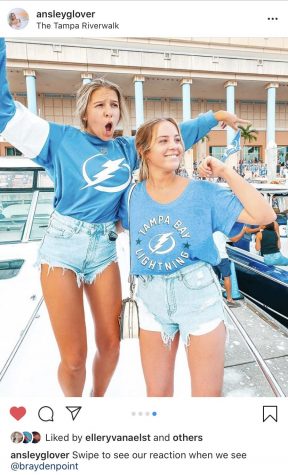 Ansley Glover (12) 
Senior Ansley Glover welcomed the team home at the boat parade Wednesday, Sept. 30. Players, staff and fans paraded down the Hillsborough River, and after, the players brought Stanley home to Raymand James Stadium, where players, coaches and owners delivered speeches. 
"My favorite part of the boat parade was seeing all of Tampa come together over something so positive," Glover said. "With everything that has happened in 2020, it felt like a little bit of hope that our city would soon feel normal again."