Swim team celebrates senior night
As the sun was setting Tuesday, Oct. 13 the underclassmen lined the edge of Bobby Hicks pool holding portraits of all 23 of the swim team's seniors.  
Coaches Gil Gonalez and Royce Brown announced each senior's name and then listed their accomplishments as the families walked along the edge of the pool towards the stage.
"My favorite part of senior night was walking down with my little sister when they called my name," senior John Banks Whiteley said.
Each swimmer was presented with flowers and mementos to commemorate their time as a member of the swim team. 
"What I'll miss most about the swim team is all the people that I've met along the way, and the friendships I've made," senior Tommy Nagel said. "Swimming has been a huge part of my life for as far back as I can remember, and my high school years have so far stood out the most. The meets have always been fun, hanging out with my teammates and cheering each other on. That's definitely something I'll miss." 
While most seniors were able to pose for a senior night photo with their family and swim in the meet, six of the seniors were quarantined due to coronavirus concerns, making them ineligible to participate.  
"I was really upset having to miss senior night because this is something you can never get back and I've been looking forward to it for so long," senior Kerry Tankersley said. "However, I got so many supportive texts and knowing that I was still being celebrated and lots of my friends also had to miss it made me feel a lot better and less alone."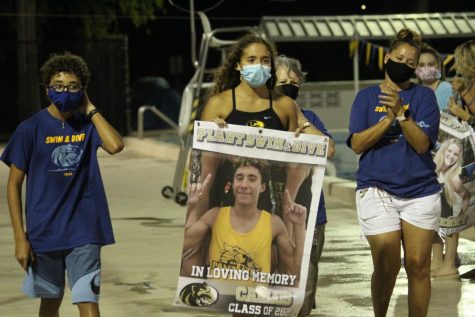 As the ceremony came to an end one senior was left to be announced. With tears in his eyes coach Brown announced Carlos Medina's name. Medina passed away in January and his loss hit the Tampa Bay Community hard. 
"What made senior night so special to me was when everyone took the time to honor and remember Carlos," Nagel said. "His loss hit us all pretty hard over this past year. He was the heart of our team and it hasn't been the same without him. A day rarely goes by where I don't think of him and miss him. It was nice to dedicate that night to Carlos since he had such a big impact on all of us." 
Medina's mother, grandmother, and two younger siblings walked his portrait down the aisle. When she stopped to receive Medina's mementos, all the members of the swim team stepped forward to present his mother with their flowers.  
"It was really special to give his mom a flower at the end of the ceremony because he was a big part of the swim community and we want her to know how much we all wish he was there," senior Rachel Carlin said.