Events wrap up senior year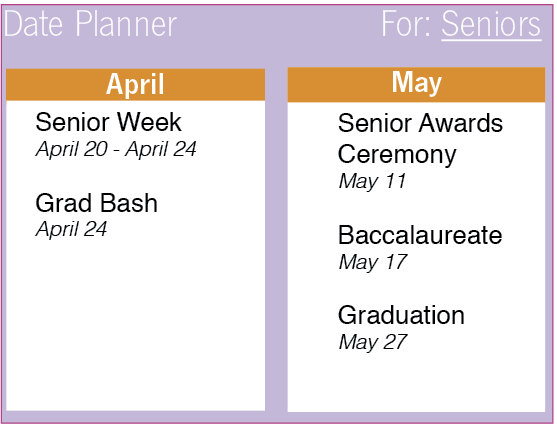 Hang on for a minute...we're trying to find some more stories you might like.
With less than two months left in senior year, events that students have been waiting for all year- including Senior week and Grad Bash- begin to take place.
Senior Week April 20- 24 Seniors celebrate their last couple weeks in high school with a final burst of spirit. Senior Week involves the entire class of 2015 participating in interactive activities to celebrate their last days together. "I'm looking forward to Senior Week the most because it gives the graduating class a chance to step outside the lines without getting in trouble or looking weird," Cyana Howard, senior, said.
Grad bash April 24 Grad Bash takes place at Universal Studios from 7 p.m. – 2.a.m., Celebrating seniors can ride roller coasters and see celebrities perform live in concert such as, Trey Songz and Flo-rida. "I'm most excited for Grad Bash because it's like a little get away for a weekend before you go separate ways for college, and Pitbull will probably be there," Leah Dosal, senior, said.
Baccalaureate May 17 Baccalaureate is a graduation tradition that originated in England at the University of Oxford in 1432. The ceremony precedes the official high school graduation ceremony. Baccalaureate is smaller and more intimate so the immediate family can gather to celebrate the graduates. Administration, faculty and community leaders give speeches to provide advice to students as they start the next phase of their lives.
Senior awards assembly May 11 Invited seniors receive awards, scholarships and watch the senior video filmed by TV productions.. The video consists of interviews and seniors dancing with clubs.
Graduation May 27 The official graduation ceremony takes place at 1 p.m. at the Florida State Fairgrounds.