Student helps design 2020 Special Olympics logo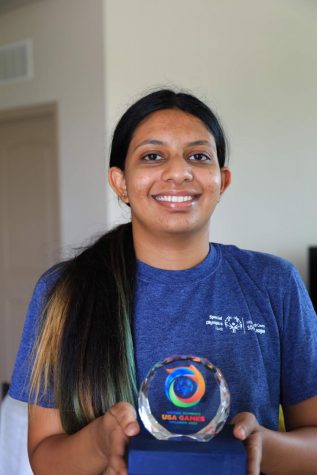 Q: Can you tell me a little about the design, like what it means to you, where the inspiration came from? 
A: I got inspired by other artists and my mentors and I talked about Florida, Orlando Special Olympics and I drew out many designs for the logo. 
Q: How did you draw the designs?  
A: I used paper pencil to draw the designs.  
Q: What made you want to design the logo, and where did you hear about it?  
A: I designed the logo for Special Olympics 2020 and there I created the logo in the logo workshop in February.  
Q: And did you get invited to the logo workshop?  
A: Yes, they invited nine Special Olympics athlete artists from throughout… the country. 
Q: How do you feel about your achievement?  
A: I felt proud in logo workshop and I really had fun with my nine artists to create the logo.  
Q: When you were designing the logo did it take a lot of tries and how long did it take?  
A: It took many hours and nine artists. 
Q: When did you design the logo, do you know the date?  
A: I designed the logo, it was on February 9th. 
Q: How does the logo represent the Special Olympics to you?  
A: The logo was represented by me… from the orange for the Florida, it has orange in it, and blue is for the… ocean in it, and green is for the wildlife in it, and red is represented by the Special Olympics athlete flame. 
Q: So, do you play sports in Special Olympics?  
A: Yes, I do Special Olympics. I do cheering, and basketball, and bocce ball, swimming, stand up paddle board and track and field. I do lots of kinds of Special Olympics, that's really cool! 
Q: Are you going to compete this year?  
A: I'll do that. 
Q: How do you feel when you're competing? 
A: I felt happy because I did competing of Special Olympics.
Q: Can you tell me about what it was like to be on Fox News?  
A: The Fox News was really, super, super incredible in New York, and I enjoyed a lot in Fox News. And I talked about [being a] Special Olympics athlete and artist and fashion designer. 
Q: And do you want to be an athlete or fashion designer?  
A: Yes, I want to be an athlete and fashion designer, but I can do that. 
Q: What was your favorite part about the experience?  
A: My favorite part is going to New York and I went to Fox News for the interview.