Athlete of the Week: Trevor Haire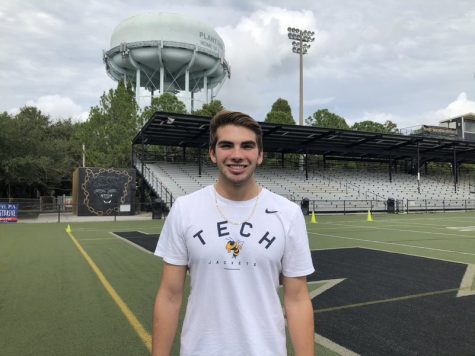 Q: How did you get involved in football? 
A: "So, I was playing soccer and I just thought I would try it out. I used to go to a different school, and I asked the coach if they had a spot (on the football team) and they said I could try it out. I got into football by quitting soccer and getting into football full time." 
Q: Was there a reason that you decided to quit soccer? 
A: "I had a lot of knee problems and I was trying to be smart as far as my future goes. There was a brighter future in football for me than in soccer when it comes to scholarships" 
Q: How did Georgia Tech reach out to you? 
A: "During the spring, we have a bunch of college coaches that come out to the field and they saw me there. I ended up reaching out to them. I was on my way up to go to a different school and I asked them if I could stop by for a visit. I told my head coach and he talked to their coach. The connection started through my coach and through plant." 
Q: Was there a certain reason you decided to choose Georgia Tech? 
A: "When I went up there for a visit, they had a big family aspect to them, which was different from everywhere else I went. They really cared about family. There was one thing that the head coach said that stuck with me. He said, 'You're going to be stuck with these people for the next four years and yes, a lot of places have nice facilities, but it's about the people who you're going to be around that makes it important.'" 
Q: What's something you're looking forward to while there? 
A: "The football and the academics you can't beat. It's a prestigious university.  
Q: Were there any other schools you were hoping would reach out to you? 
A: "When I was younger my dream school was Michigan, but it wasn't really reality. Once I started talking to Georgia Tech, I put all my eggs in one basket. " 
Q: How did you feel when they asked you to commit? 
A: "I was excited when I called the coach, I was nervous, but I knew in my heart it would be the right decision for my family and me."  
Q: What do you think about the coaches there? 
A: "They're awesome. They really care about my family and not just me, they have a really strong family aspect. "