Lindsey Meyer Q and A
Student athlete commits to Wisconsin University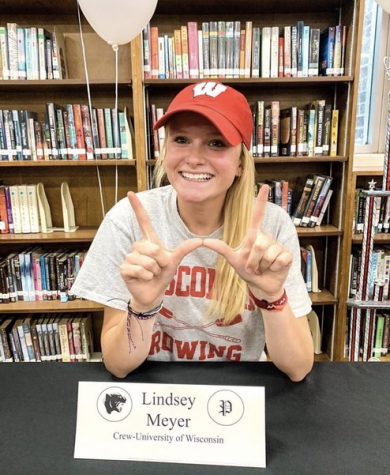 Q: How long ago did you join crew? 
A: I did it in middle school, starting in 6th grade, continuing to do it throughout high school.  
Q: What made you want to join crew? 
A: My sister did crew. She was a lightweight rower and I saw her row and I thought that looked cool. I got injured and I became a coxswain. I was small, so they said I was very good for the position. I tried it and I liked it a lot. I was still doing cross-country at the time, so they didn't want me rowing. I ended up sticking with it.  
Q: What is your favorite part about crew? 
A: The competition.  
Q: Were you considering this school before they reached out to you? 
A: No, not at all.  
Q: How did the University of Wisconsin reach out to you? 
A: I was talking to Syracuse and Ohio State at the time. I wasn't talking to Wisconsin until this summer. All of a sudden, I got invited to one of their camps and then they asked if we could begin talking a bit more.  
Q: What made you decide to pick Wisconsin over other schools? 
A: The people. 
Q: What were you feeling when you committed? 
A: I was happy that the whole process was over because I have been talking to schools since sophomore year.  
Q: Is there anything that you're nervous for? 
A: Leaving everything behind. Leaving my friends and family.  
Q: What are you most excited for? 
A: It's a lot more competitive than high school and like I said, I really like competition. I'm excited to go to even bigger races and race against different college teams.